The Sticky Bandits Product Line
Sticky Bandits is

one of

the

strongest IPs

in the Quickspin universe

and

a product line that keeps going from strength to strength.

There's so much to love about these games:

strong IP,

solid narratives,

the awesome Sticky Wilds feature

,

and more

!
Sticky Bandits Trail of Blood
A new twist on a beloved theme, Sticky Bandits Trail of Blood is the fourth game in our hugely popular Sticky Bandits franchise – and the most volatile one so far.
Tex Tallonis returns to the goldrush town where he once served as a sheriff's deputy, until he discovered that everyone in charge was using the town as their personal ATM.
On his quest for justice, Tex ended up making some powerful enemies along the way and it all blew up in his face one night. Bandits started peppering his home with bullets and Molotov cocktails, taking the lives of his wife and children… His enemies assumed he died too, but they were wrong.
One year has passed and he's back to avenge the killing of his family. It's time for revenge.
Sticky Bandits Trail of Blood is a 5-reel, 10-line game, boasting high volatility, high max wins, five different Wild symbols (one per reel), and a Free Spins Bonus with Sticky Wilds.
And will you be able to nail down a 'Blood Line' in the Free Spins Bonus? If you get one Wild per reel on a win line, they stay sticky for the rest of the bonus game – and you'll be rewarded 300x per spin!
Play the game here Read more here Check out the demo here
Release date: August 9th 2022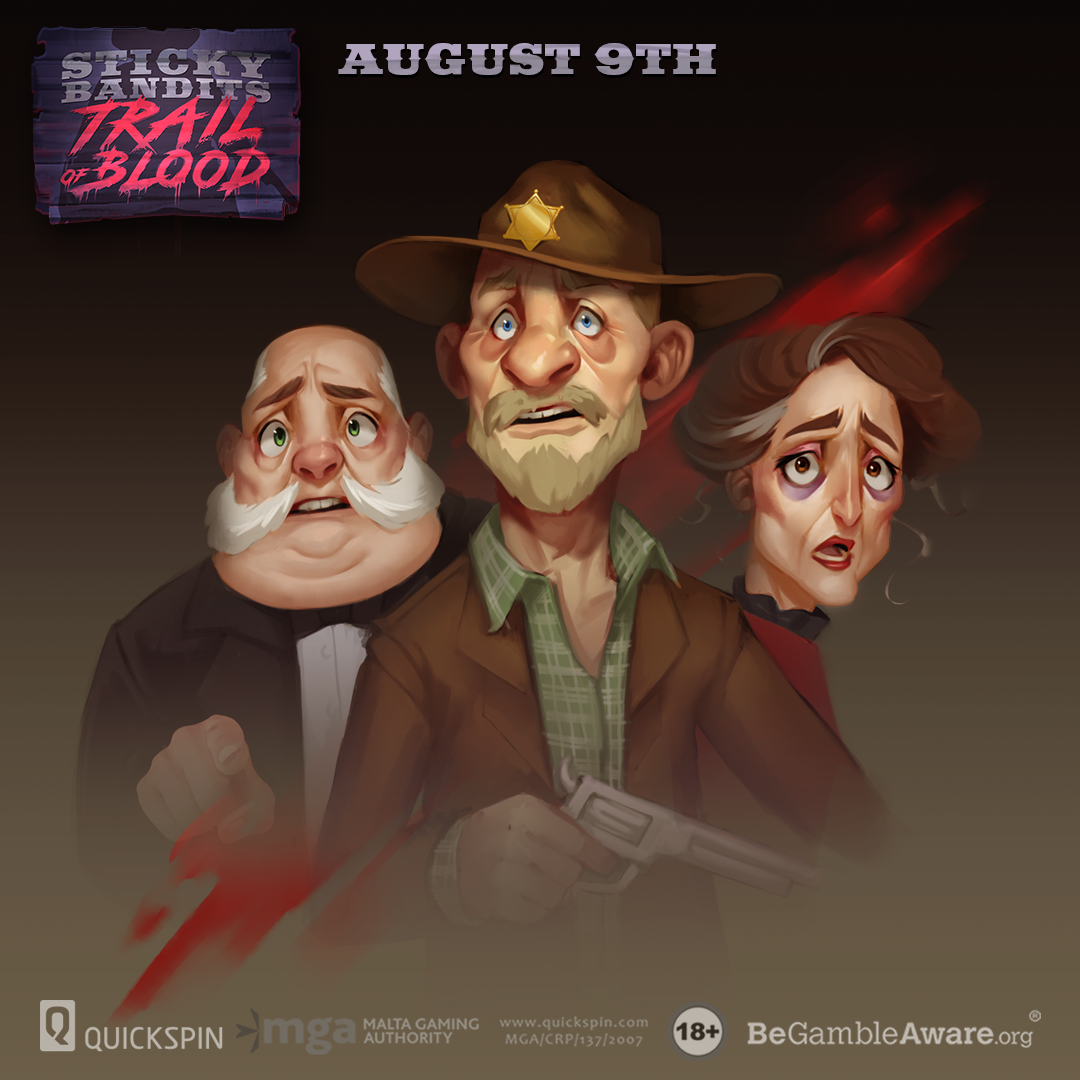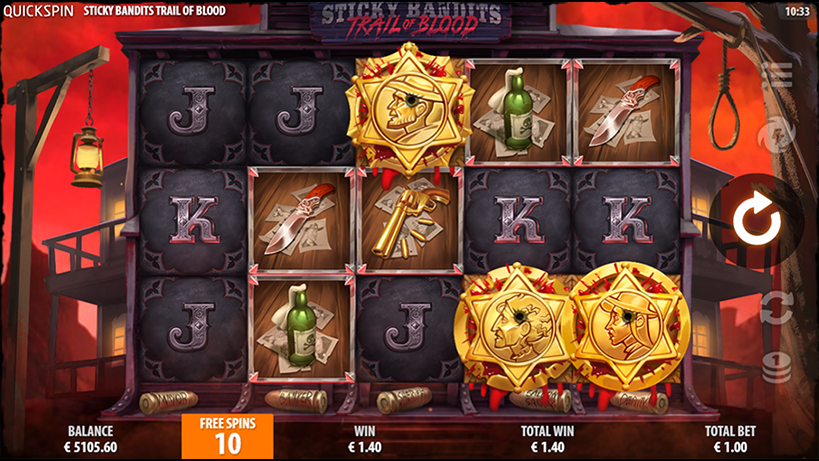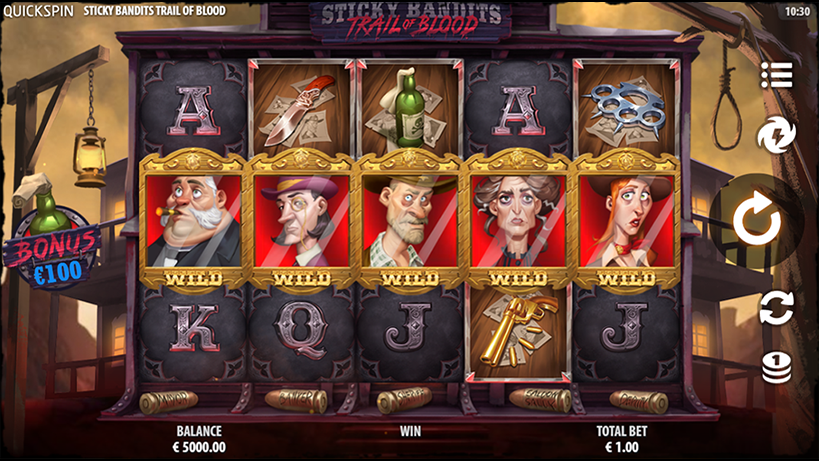 Sticky Bandits
Plunge into the wicked Wild West and join a couple of bad-ass bandits as they attempt to rob a runaway train!
Sticky Bandits is a thrill-a-minute rollercoaster of a ride, featuring desperadoes, dynamite, and a killer western soundtrack.
With high volatility, Massive Wild symbols, Bonus symbols, and a Free Spins Bonus, this slot is guaranteed to give you an exciting gaming experience!
Massive Wild Symbol
These symbols are not just big, they're massive! The Massive Wild symbols appear on reels 2 and 4, covering adjacent reel positions to the right. The symbols act as both a Wild symbol and a Bonus symbol, and as a substitute for all symbols.


Play the game here
Read more here
Check out the Promotion video here
Released in 2017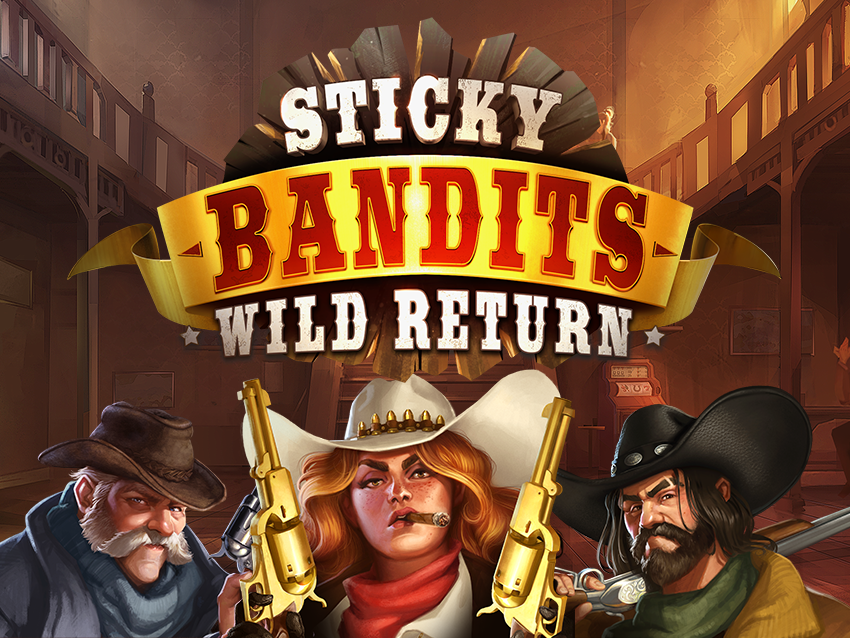 Sticky Bandits Wild Return
The old bandits are back in town, meaner and leaner. And they say all good things come in three, so we've added a new bad-ass bandit to the gang. This trio of desperadoes is ready to cause some serious havoc in a dingy saloon that's packed with whiskey, cigars, guns, and skulls – just as you'd expect in the wicked Wild West!
This gaming experience is every bit as thrilling as the first Sticky Bandits! The three bandits show up as both normal and massive symbols on the reels (up to 3×3!), and there's an extremely exciting shootout in the Free Spins Bonus where all the bandits can turn into Sticky Wilds!
And as always with Quickspin, we've of course added something completely new and unique to the mix. This time it's an old slot machine inside the game, with a jackpot that can multiply a win with 500x – so there's a chance to win BIG!
Play the game here
Read more here
Check out the demo here

Release in 2019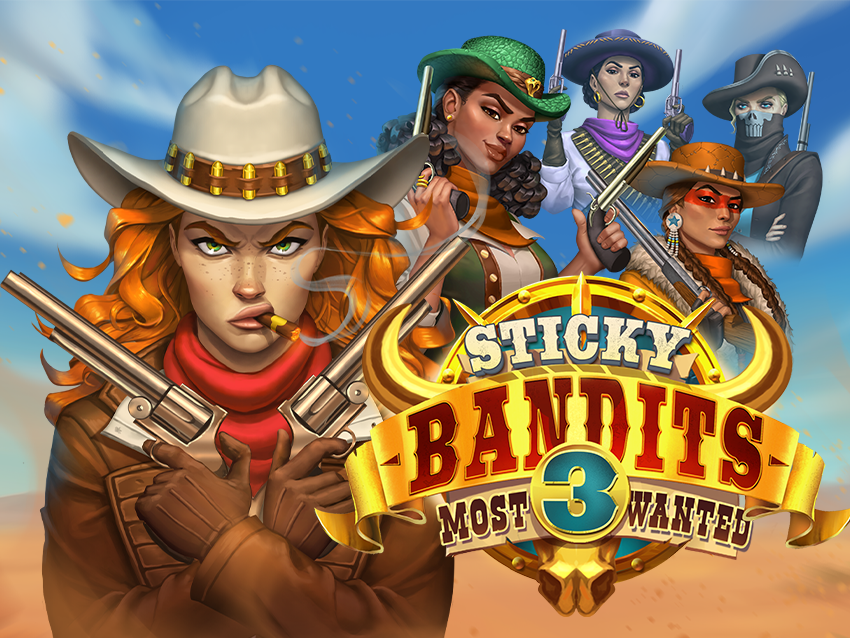 Dynamite, guns, cacti, and whisky – the wicked Wild West is back! The first two Sticky Bandit slots are two extremely popular Quickspin games, so who are we to deny you a third one?
This time around, the bad-ass bandits are five fierce women and they've only got one thing on their mind: to get inside that locked safe and run away with bags full of cash. Will you be able to get your hands on some of it?
Sticky Bandits 3 Most Wanted is a 3×5 slot loaded with exciting Wilds and Free Spins, plus the Sticky feature that everyone loves. And you don't even have to wait around for the Free Spins bonus – pay 60x bet and get instant entry with the Bonus Buy feature!

Play the game here
Read more here
Check out the demo here

Released in 2021
Perfect for Tournaments
Using the Quickspin tournament offering you can engage your players with the full Product Line of Sticky Bandits games. Either by allowing them to compete on the highest single win mechanic or by using our in game events (scatter collect, big win, bonus round entry) to create unique tournaments and targets for the players.
Please fill out the form below to order your tournament